CLASSICAL STUDIES
Displayed here are various academic studies Russell has made over the years after classical works of art. Some more recent experiments, like the Seneca painting and linear study of Apollo, were made in order to better inform his knowledge of historic training methods which he is currently writing about for a future book project. Older studies, like the bust from the Sperlonga group, were done in his student days. They attempt to explore and articulate form using a fine art approach, rather than obscure form using a modern, industrial approach, such as that epitomized by the common 'Barge method' which is influenced by photography. The latter, is based on mechanical replication, and merely copies shadow-shape patterns while relying on an excessive use of straights and is therefore antithetical to a classical approach.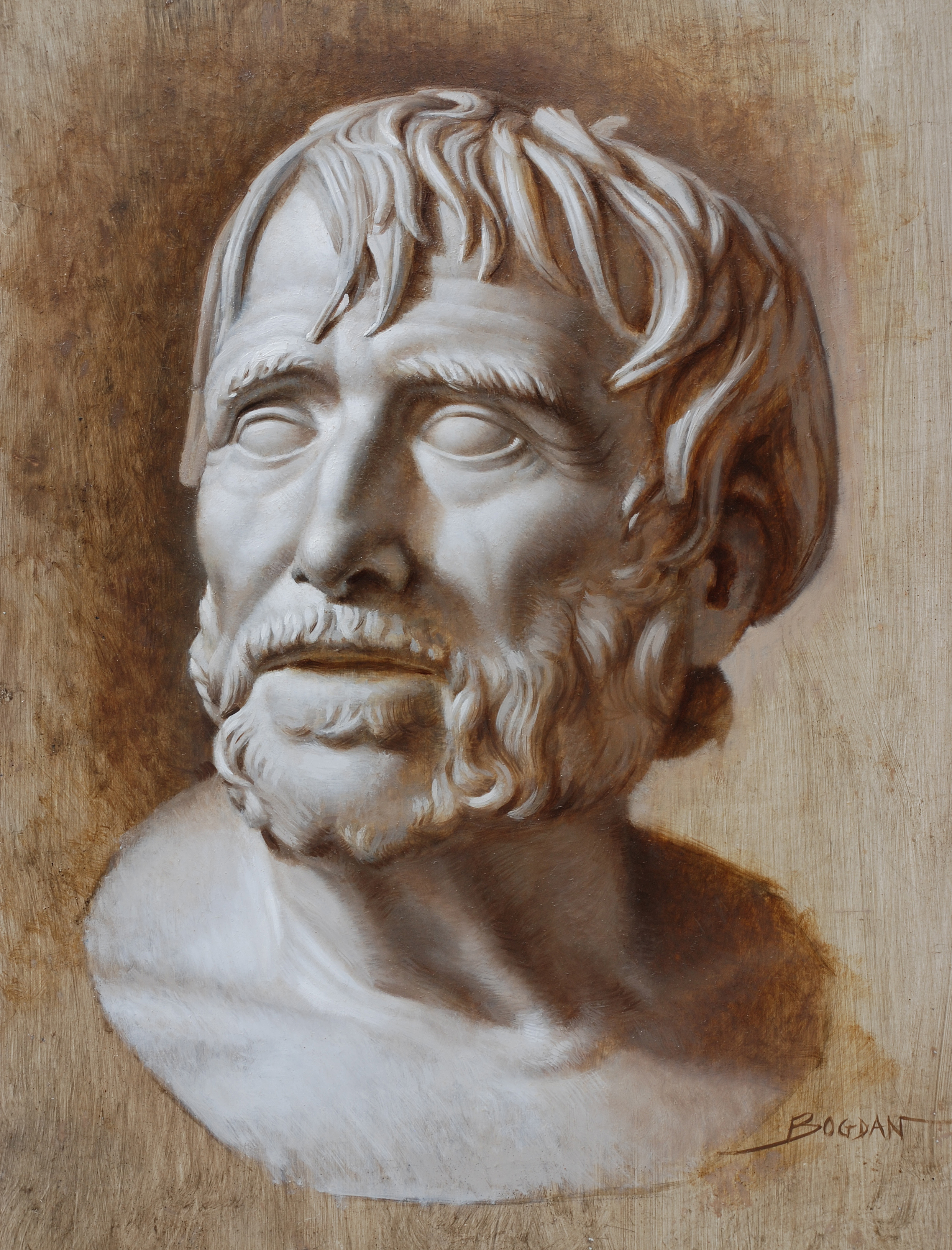 Seneca, 15"x12" Oil on Panel, painted from custom made cast. Derived from Hellenistic bronze at Arch. Museum at Naples, Italy
Linear (outline) drawing of Apollo Belvedere, graphite.
An academic study focusing on contour and design. Drawn from a plaster cast imported from Italy. The original (full sculpture) is located at the Vatican. It was one of the most commonly drawing models from the Napoleonic era.
Dying Gaul, graphite on vintage paper
Drawn on location at the National Gallery of Art (DC).
Drawing the Gaul (N.G.A., DC)
Dying Gaul (Greek - Hellenistic period). The original marble (which was on loan) is at the Capitoline Museum, Rome.
Capitoline Venus, chalk pencil, 16x23, framed (FOR SALE)
Drawn on location at the National Gallery of Art (DC). This sculpture by Praxiteles (c.300 B.C.), represents the transitional period between the Greek 'Classical' period and the later 'Hellenistic' period. The original marble (which was on loan) is now at the Capitoline Museum, Rome.
Bust from Sperlonga group, chalk pencil, 20x24 (FOR SALE)
This cast drawing was done from a high quality, custom plaster import. The original marble bust-fragment (now in the British museum) derives from a larger group originally located by the coast of Naples, Italy and now partially reconstructed nearby at the Sperlonga Museum. It depicted a mythological scene from Homer's Odyssey - 'The blinding of Polyphemus' (the Cyclops). This figure is described as 'The companion of Odysseus'. The monumental group was created in the 1st Century AD by the School of Rhodes.
Samson & Delilah, after Van Dyck, oil on panel
An early commission for an American client. In order to make this reproduction, I was able to purchase digital images from the Kunsthistorisches Museum (Vienne, Austria) where the original is displayed.
'Libica' (from Sistine Ceiling by Michealangelo), a mural scale copy in oils (approx. 8'x5').
This commission (c.1994) was done for a client in Austria while I was studying abroad independently. It was painted on the wall of a private residence. Using a small reproduction for a reference, I laid it out freehand, and scaled it up using the 'grid method.' The copy took around one month to execute and gave me a crash course in proportion while painting in a simplified, fresco-like palette. Working just outside of Vienna, with Mozart's 'Die Fledermaus' playing in the background (the only tape I had) I was indeed in heaven as an itinerant artist in Europe. Smaller commissions came along the way but none was quite this monumental.
A photo of me painting the above Libica with an improvised scaffold.
Street painting in Florence.
Working for a time as a 'Madonnaro' another monumental copy I made was this pastel drawing (on paper) after Pontormo's 'Deposition.'
Another pastel copy of 'St. John' (after Caravaggio) on the terrace of my Florence apt.
Chalk drawing copied from an engraved print of a capital.